ETSPro 2002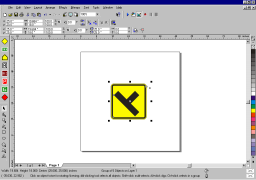 TraffTech has identified the need for a modern sign making package. As a resuls TraffTech has put its years of expierence together to come up with a software package that is easy to use with maximim productivity from the individual that is new to computerized sign making or the seasoned veteran.

ETSPro will meet all of your needs and simplify your process with over 1800 traffic signs already designed according to federal specifications and ready to cut out in a matter of seconds.

ETSPro provides the customer with all of the tools needed to exactly follow and design any new traffic signs that are issued in the future from state or federal agencies.

With ETSPRo logos and special graphics can be scanned in directly making any sign design or special project possible. All important attributes, such as, spacing and alignment can be easily and uniformly applied to sign designs. When using die cut letters that have to be laid out individually this is not simply accomplished and rarely are the signs identical.

ETSPro easy to use interface and menu options gives the customer total design and layout control of all custom signs. No more waiting for sign drawings and the tedious, time-consuming process of modifying the sign design before ordering them from an outside vendor - simply make the design changes you want, make the sign, and save the design for future use. Also save on costs. No more art, design, or set-up charges for custom signs that are charged by outside vendors. Special charges that can easily range from $25 to $200 for just one custom sign. ETSPro and its accompanying products, Suma Cutterand TraffTech Roller, will pay for themselves in no time.

Vehicle graphics for department trucks and police cars can be produced as needed at a substantial savings over ordering them from outside vendors. It is not uncommon for a set a police car graphics to cost between $200 to $500 when the actual material costs often are less than $50.

Community logos, mock-ups, banners and special event signage can be completed from concept to installation all in-house with total design control when needed. Although TraffTech's computerized traffic sign making systems are designed to meet all of your departments traffic sign needs it is a fully functioning graphics system to meet the needs of other departments and the entire community.

ETSPro will facilitate in the reduction of inventory of traffic signs and all other signs. Instead of having many different signs in stock to address the endless types of circumstances that may or may not arise, simply have a few sign blanks in stock (i.e. 18X24, 24X30, 30X30) and only make the signs that are needed.

Take charge of you sign design needs in-house. No more waiting for signs to arrive from outside vendors when your department has TraffTech's computerized traffic sign making system. Many times a sign is needed immediately to address a dangerous situation. Simply find the sign needed within the software program or design your own within 10 to 20 minutes.

back to top of page...

Suma Cutter
TraffTech is a licensied seller and service partner of Summ Cutters. Whether you are an existing TraffTech customer or not don't hesitate to contact us with any of your Suma Cutter questions or issues. TraffTech will meet all you Suma Cutter Needs.

back to top of page...

Roller
To finsih off the TraffTech expierence and have the complete package TraffTech now offers its very own roller, EZRoller. With the end user in mind and the expierence of TraffTech staff and all its customers TraffTech has designed and built a Roller that will add the prefect finishing touch to all your signs all the time. Contact us today with any inquires about our Roller.

back to top of page..